AVTA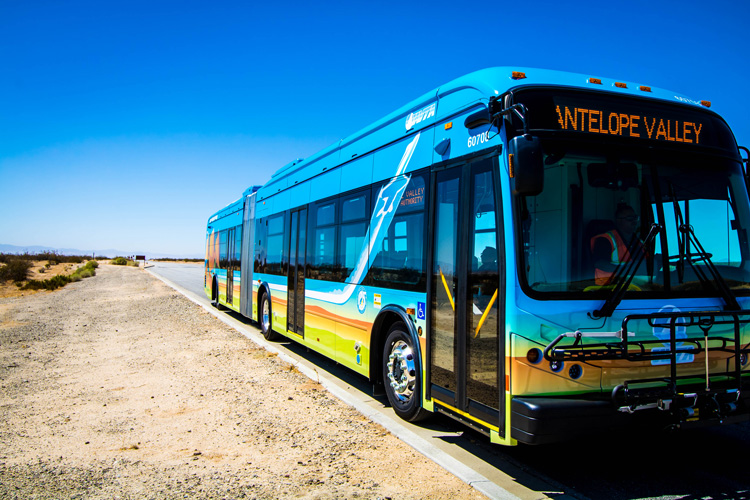 The Antelope Valley Transit Authority began service in the Antelope Valley on July 1, 1992. AVTA currently serves a population of over 450,000 residents in the cities of Lancaster and Palmdale, as well as the unincorporated portions of northern Los Angeles County. Its total service area covers 1,200 square miles and is bounded by the Kern County line to the north, the San Bernardino County line to the east, the Angeles National Forest to the south, and Interstate 5 to the West. The fixed route service area consists of approximately 100 square miles.
AVTA operates a network of 13 local transit routes, six commuter routes, and three supplemental school routes for the local high schools. Local bus service is operated on weekdays from 5:00 a.m. to 12:45 a.m. Saturday service is operated from 6:00 a.m. to 11:30 p.m. and Sunday service operates from 6:30 a.m. to 8:45 p.m. Commuter services operate Monday through Friday from 3:50 a.m. to 7:54 p.m. AVTA also operates a midday service, known as the TRANSporter, that connects the Antelope Valley with the Santa Clarita Valley on week days. This service begins operating at 8:00 a.m. and continues until 5:50 in the evening. AVTA also provides urban and rural Dial-a-Ride service. Service within the urban zone and rural zone 1 is available to elderly persons and persons with disabilities. Service within rural zone 2 is open to the general public. Buses operate weekdays 6:00 a.m. to 7:30 p.m. and weekends 8:00 a.m. to 6:00 p.m.
AVTA operates a fleet of 88 buses for transit service with 58 buses dedicated for local service and 30 dedicated to commuter service. The number of buses in service is changing as the AVTA team switches out diesel buses for new battery electric zero-emission buses. In September 2012, fifteen new diesel hybrid buses were added to the local transit fleet, replacing older buses that had no useful life remaining. Six MCI commuter buses were also added to the fleet. Three replaced aging vehicles, leaving three more to provide additional service to valley residents. In 2014, two all-electric zero-emission buses were added to the fleet, with the long range plan calling for aging local transit buses to be replaced with all electric vehicles by 2018, and commuter buses to be replaced with all electric vehicles by 2020. The first 60-foot all-electric articulated bus in the nation was delivered to AVTA in May 2017. The current peak requirement for local service is 38 vehicles and commuter service is 25 vehicles. As of December 2019, AVTA operated 88 buses, over half of which are zero-emission buses. Those 49 BYD electric buses, manufactured right here in the Antelope Valley, completed two million miles of travel on December 24, 2019, and crossed the three million mile mark on June 23, 2020. AVTA's goal from the start was to be the first transit agency to implement electric bus technology on a broad scale, and we have met that goal. AVTA contracts with Transdev Inc. to provide local and commuter bus operations. The current Transdev contract was renewed on December 31, 2011.
AVTA's FTA-funded administration, operations, and maintenance facility opened in April 2004. A solar canopy covers a portion of the parking area. Phase II of the facility's construction was completed in January 2013. AVTA has transfer centers in Lancaster and Palmdale. These were built with local funds.