Director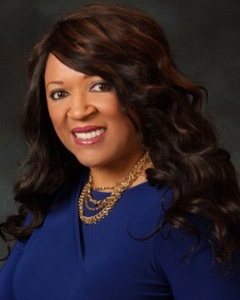 Angela Underwood-Jacobs has established herself as a highly valued, active leader in the Antelope Valley community. She currently serves as Senior Vice President of the Greater Southern California (GSC) North Region at California Bank and Trust. Prior to this, she served as a Consumer Market Executive at Bank of America for eighteen years. Angela's passion for continued growth within the Antelope Valley has enabled her to spearhead new business opportunities for the community.
Utilizing the invaluable leadership experience she has acquired throughout her professional career, Angela has been instrumental in the development and success of multiple committees and outreach programs. The list of her key contributions includes serving as: Criminal Justice Commissioner for the City of Lancaster; Antelope Valley Transit Authority Board Member; Honorary Board Member for the Children's Center of The Antelope Valley; Vice Chair of Antelope Valley Hospital Advisory Subcommittee on Tobacco, Alcohol and Drug Prevention for Minors; and, Board Member of the Antelope Valley Board of Trade, where in current and prior terms she has successfully collaborated with a number of local business leaders.
Angela feels very fortunate to have worked with incredibly dedicated leaders in the Antelope Valley. She looks forward to the opportunity to continue to contribute in the ongoing development and prosperity of the great City of Lancaster.