---
AVTA Temporarily Reduces Local and Commuter Transit Schedules Due to Low Ridership as of 04.26.21
Lancaster – Throughout this global pandemic, AVTA ridership has suffered as Antelope Valley residents sought the safety of their homes and obeyed State and local lockdowns. One year into the COVID-19 pandemic, AVTA is still experiencing a significant drop in ridership on both their local and commuter service.
AVTA leadership continues to uphold the health and safety of our passengers and employees as our top priority. The agency has taken many steps to ensure that all vehicles and bus stop amenities are cleaned and disinfected daily. AVTA continues a policy of 50% reduced maximum seated occupancy and operators and riders continue to observe social distancing. A mask or cloth face covering is still required to be worn in order to board and ride the bus. In spite of these safety precautions, ridership continues to lag significantly below pre-COVID levels.
As a result of the low occupancy,
on Monday April 26, 2021
, and until further notice, AVTA will temporarily adopt a Reduced Saturday Schedule. All local transit routes will change to a Saturday schedule for all days throughout the week, Monday through Sunday. Route 8 will continue to run Monday through Friday, serving the two Antelope Valley College Campuses. For specific timetables, please see AVTA's Reduced Saturday schedule
www.avta.com
.
Commuter service will also be temporarily reduced
on April 26, 2021
. AVTA will continue to run 11 commuter routes for Routes 785, 786, and 787, Monday through Friday. The Reduced Commuter Route Special Schedule is available at
www.avta.com
.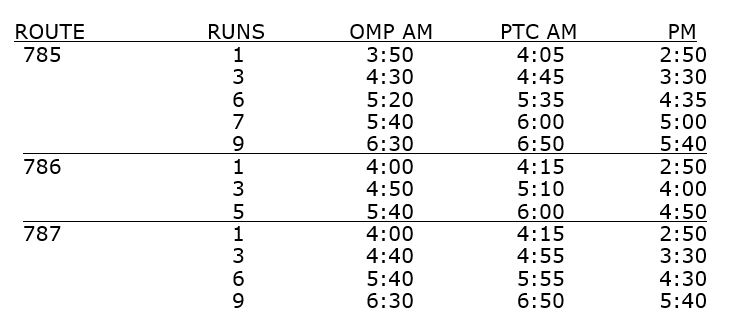 Routes 747 and 748 have not resumed service to Edwards Air Force Base and Mojave Air and Space Port.
The TRANSporter, Route 790, is not currently running.
To stay current on these and all AVTA service changes, please visit
https://www.avta.com/service-changes.php
.
AVTA provides local, commuter and dial-a-ride service to a population of more than 450,000 residents in the cities of Lancaster and Palmdale as well as the unincorporated portions of northern Los Angeles County. Its total service area covers 1,200 square miles and it is bounded by the Kern County line to the north, the San Bernardino County line to the east, the Angeles National Forest to the south, and Interstate 5 to the West.