Chairman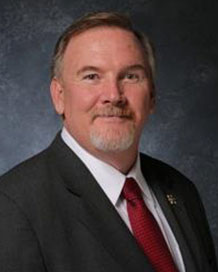 Marvin "Marv" Crist was first elected to the Lancaster City Council in April 2010, and appointed Vice Mayor on December 11, 2012. Crist was born and raised in the Antelope Valley and studied business at Antelope Valley College. A former firefighter, he now owns his own insurance brokerage and participates in a wide variety of local organizations.
Crist serves as the President of the Antelope Valley Sheriff Boosters; Director of Kids' Charities of the Antelope Valley; Co-Chairman of the Fallen Heroes Ride; Co-Chairman of the Animal House Kiwanis Junior Livestock Auction; Co-Chairman of the Hank Hunter "After the Fair" Barbeque; and Co-Chairman of 21st Century for Kids.
He is also a member of the Antelope Valley College Golf Tournament Committee and Lancaster West Rotary. In 2005, he was named Volunteer of the Year for Desert Christian Schools. In 2007, he was named Lancaster Sheriff's Booster of the Year.
In addition to his many philanthropic endeavors, Marv leads many local governing boards; Chairman of the Antelope Valley Transit Authority; Chairman of the Antelope Valley Air Quality Management District; and a member of the Antelope Valley Fair's Joint Powers Authority Board of Directors.
Marv resides in Lancaster with his wife Cindy, and has one adult son, Ryan.