Director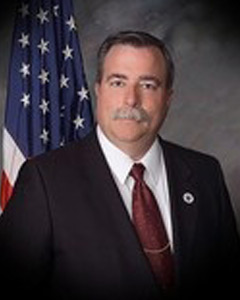 Steven D. Hofbauer was elected to his first term as Mayor on November 6, 2018. He previously served for four terms on the City Council, and served as Mayor Pro Tem from December 2008 to December 2009, January 2012 to January 2013, and from January 2016 to February 2018.
He currently serves as a delegate for the Antelope Valley Transit Authority. Hofbauer retired from the Los Angeles Fire Department, having worked there since 1980. He served as a senior fire inspector II assigned to the construction services unit, inspecting highly technical new construction, high-rise and special occupancies. He received training and certifications through the International Code Council and California State Fire Marshall Inspector III.
Hofbauer was a licensed EMT and paramedic for nearly 35 years. Prior to becoming an inspector, Steve staffed a variety of challenging field rescue assignments, including duty as a flight medic. His unit was one of the first rescue teams on the scene of the catastrophic Northridge Meadows building collapse, where their successful earthquake rescue efforts were prime time news. His legacy continues through the dozens of rookie paramedics he mentored as a paramedic preceptor training officer.
Steve served multiple tours of duty as a medical team leader with the LA County Disaster Medical Assistance Team. He received highly specialized training as a member of the elite National Medical Response Team, a unit of the US Public Health Service, trained to treat victims of industrial, nuclear or chemical accidents, or terrorist acts involving weapons of mass destruction. Hofbauer has earned numerous commendations, including Paramedic of the Year, and the highly prestigious Los Angeles County Community Protector of the Year. The Boy Scouts of America have recognized him with the District Award of Merit, and the Council's Silver Beaver Award for Outstanding Service to Youth. Hofbauer attended Pierce and Los Angeles Valley College, UCLA Extension, California State University, Los Angeles, Rancho Santiago and Santa Ana colleges to further his specialized education.
Hofbauer represents the City Council as a delegate to the National and State League of Cities and their Desert Mountain Division the Southern California Association of Governments (SCAG) Community, and Economic and Human Development Committee North Region, representing Palmdale, Lancaster and Santa Clarita. He serves on the Public Safety Policy Committee, the Regional Trauma Center Committee, and chairs the Gang and Graffiti Sub-committee. He is the delegate to the United States/Mexico Sister Cities Association, California Contract Cities Association, where he serves on the Legislative and City/County Contracts Committees and the Orangeline High Speed Mag-Lev Development Authority. He is an alternate delegate on the High Desert Corridor Joint Powers Authority, Los Angeles County Sanitation District Numbers 14 and 20, and North County Transportation Coalition, and serves as a board member for the Antelope Valley Transportation Authority.
In his spare time, Hofbauer enjoys sailing and is an accomplished woodwind player. He is a member of the Palmdale Sheriff's Boosters, the United Firefighters of Los Angeles and California Professional Firefighters. He has served on the Boy Scouts District Training and Camporee staffs, as Merit Badge Counselor, an Assistant Scoutmaster of Troop 39, and is the Skipper of Sea Scout Ship 11. Hofbauer has volunteered with the Little League and Youth Orchestra Boosters and has been a coordinator for the Firefighters' Toys for Needy Children Program.
Hofbauer, his wife of over 30 years, Barbara, and their two grown children, Kimberly and Eagle Scout Christopher have lived in Palmdale since 1981.